Tailgating, Friends, Football and…Power Inverters?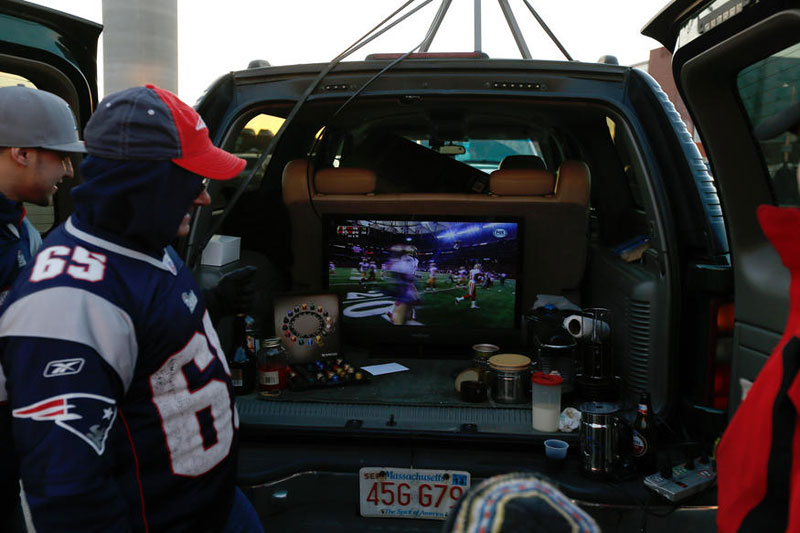 It's a beautiful weekend morning and you've set up at your favorite tailgating spot. The canopy is up, friends are arriving and the meat is cooking on the grill. What else could you want? How about adding some entertainment or a blended beverage to kick it up a notch? I know a power inverter may not come to mind when tailgating, but I am going to discuss how one can improve the quality of your tailgating experience.
Pregame broadcast
Getting an early start on the day's festivities is expected when tailgating, but what if you're missing your favorite pregame coverage or a game you wanted to watch earlier in the day? Armed with an inverter, a deep cycle battery and the proper entertainment equipment, you can catch it all. A small pure sine wave inverter in the 300-600 watt range should provide plenty of power to run a modern flat screen TV and an OTA (over the air) antenna. Hook the inverter up to a good deep cycle battery and you could be watching for hours. Want to take it the extra yard? Many service providers offer a low wattage tailgate or travel friendly option that will give you access to those channels not available OTA.
Music
Maybe you're not interested in any other games or pregame shows, but you want to upgrade the tunes you listen to. Cell phone speakers just don't make the cut in my opinion. With a small pure sine wave inverter and a deep cycle battery you can plug in a speaker system for hours of high quality sound. You could even make things interesting by hooking up that karaoke machine that's been collecting dust in the back of the closet.
Slow Cooker
With seemingly endless recipes, a slow cooker should be a go to play at your next tailgater. Plug a slow cooker into a 300-600 watt inverter attached to a deep cycle battery and you'll have warm food on hand for those cool autumn days. On high you should be able to get 2-3 hours of runtime, and on low you can triple that runtime, so consider bringing those meatballs already warmed up from home. Some slow cookers even come with multiple warming chambers for dips and other tasty treats. Nachos, anyone?
Refuel
Nothing refuels the spirit like your favorite blended drink. Geared with a 600-1000 watt inverter and battery you should be able to run a small blender. Try making blended mochas for your family and friends on those early morning games. Blend up a nice fruit and vegetable smoothie as mid-day energy boost. Break out your favorite blended cocktail for great refreshment on a warm sunny day.
Call an audible
Cell phones are dying, the sun is going down and it's getting dark. Time to call in an inverter audible! Get out that power strip and let you friends charge their devices. Utilize an LED light strand to light up the tailgater and keep the festivities going after a home team win!
Side thoughts
Be sure to keep the inverter out of the weather and direct sunlight. Always fully charge the battery after each use and keep it on a trickle charge until your next use. This will improve the lifespan of the battery. Also, try and keep the inverter and battery close to each other, use an extension cord if you're short a few yards.
I think we can conclude that an inverter would make a welcomed addition to your next tailgating experience. I'm sure with a little desire and creative thinking you can come up with even more uses for an inverter. Just remember to enjoy the game! If you have any questions feel free to contact us at 800-367-3019 or Patrick@donrowe.com.