New Product Alert! Wagan Tech Slimline Series with Surface Mount Technology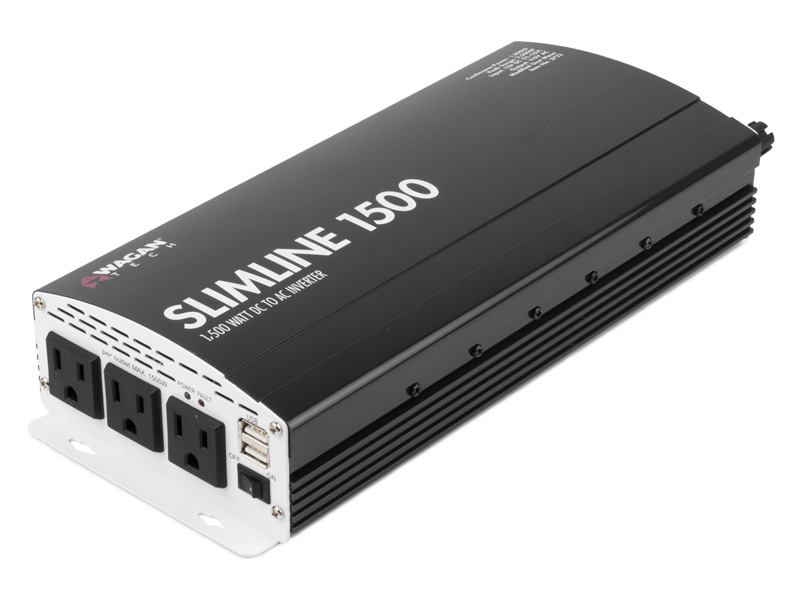 Earlier this year we announced the arrival of Wagan Tech's new Proline series power inverters with Surface-Mount Technology (SMT). We are now excited to have available the first Wagan Tech Slimline Series to incorporate SMT. The 3722 Slimline 1500 inverter is a promising improvement to its predecessor with greater reliability, better efficiency, fewer RF emissions and the addition of dual 3 amp USB charging ports. All of this, combined with an extended 2-year warranty makes the Slimline 1500 perfect for mobile use in vehicles, boats, RVs, or trucks. It also works great for outdoor activities like tail-gating and camping. Here is a full break down of all the specifications on this inverter.
1500 watts of True-Rated continuous power, tested and rated for a period of 24 hours
3500 watt surge capability
Two LED status indicators
Three 15 amp AC outlets.
Two 3amp USB ports (shared)
Temperature/load controlled cooling fan
Aesthetically pleasing black exterior
Overload, overheating, low voltage, and high voltage protections
90% maximum efficiency
Modified sine wave output
2 year manufacturer's warranty
Includes 42" cables
As you can see this quality inverter has a lot to offer at a reasonable cost. We look forward to seeing what models Wagan releases next. If you are interested in this inverter or have any questions feel free to contact me at Patrick@donrowe.com or 800-367-3019.