New Product Alert! Samlex America Evolution Series Inverter/Chargers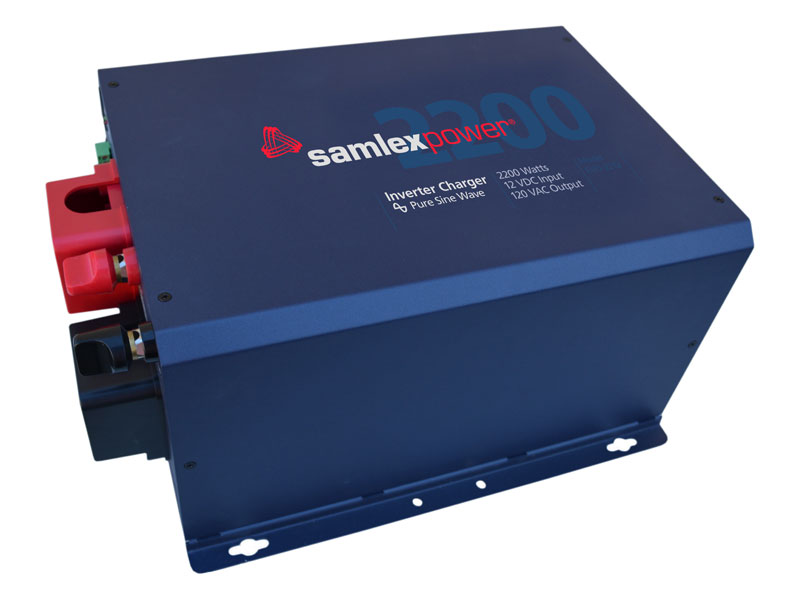 We are delighted to introduce a new line of pure sine wave Inverter/Chargers from Samlex America. The EVO Series is a pure sine wave inverter, adaptive battery charger, transfer relay – All in one unit. The Evolution (EVO) Series Inverter/Charger is an advanced, yet affordable off-grid power solution for boats, RVs, cabins and specialty vehicles, as well as alternative energy, back-up and emergency power applications.
Here are a just a few of the design features that will make the EVO Series a great fit for your application:
AC Inputs
Two separate AC inputs – one for grid (priority #1), one for generator (priority #2), connect simultaneously, no need to reconfigure when different power sources are available.
Generator Input is specifically designed to have more tolerance for wave form distortion, prevents unnecessary "rejection of AC input and switch to inverter" by tolerating distorted wave forms that can be produced by gritty generators
Each AC input is programmable for voltage and frequency. User determines what the min and max thresholds are to switch from Grid or Generator to Inverter.
Generator start can be initiated by "Status Relay" contact, can be programmed to activate when grid is lost.
Solar Input
Connect a solar charge controller directly to the EVO though the Battery Charger external DC Input, seamlessly integrates solar charging into the EVO's power system.
ONLINE Mode can be used to prioritize Batteries/Inverter over the grid, ideal for those wishing to operate primarily on solar power (when the grid is available, but might be costly).
Battery Charger
3 or 4 stage charging with Equalization (must be manually initiated).
Adaptive algorithm is used during Bulk to assess the condition of the battery. Subsequent stages are then based on the condition of the battery rather than pre-set time periods for Absorption and Float. Prevents unnecessary charging, extends the life of batteries.
Programmable – set battery voltage thresholds to initiate charging.
Transfer Switch
Zero transfer time when switching from Inverter to Grid. When grid comes on, the inverter synchronizes with the wave form and then transfers instantly at zero crossing.
Surge Capacity (Power Boost)
The EVO has 3X surge power
Additionally, the EVO has large power overload allowances available for long periods of time. Increased inverter capacity means you can size your inverter smaller to handle heavy surge loads, reducing costs.
State-of-the-Art Technology
The EVO operates at 165 million instructions per second producing lightning fast load and response times
The EVO is practically indestructible. It has "Bullet-Proof Intelligence" in the form of 9 physical points of protection monitoring being scanned up to 10,000 times per second for adverse conditions. The EVO will detect fault conditions and initiate a healthy shutdown before any product damage can be done.
The EVO-RC remote control (sold separately) can be used to capture detailed EVO performance data. Records all detected faults and the conditions leading up to them. Data is stored on a removable 16GB SD Card (in the remote). Use data to analyze trends for more efficient use of system resources
The EVO uses five temperature sensors placed throughout the unit to determine operation of 2 speed controlled cooling fans. Reduces unnecessary fan noise and energy consumption by only running when and where the fans are needed.
Don't hesitate to complete or upgrade your system, visit DonRowe.com and order your Samlex America EVO Series Inverter/Charger today.
Please feel free to contact us at DonRowe.com or post a comment with any questions you may have.
Samlex EVO-2212 – 2200 Watt, 12 Volt Pure Sine Inverter/Charger
Samlex EVO-2224 – 2200 Watt, 24 Volt Pure Sine Inverter/Charger
Samlex EVO-3012 – 3000 Watt, 12 Volt Pure Sine Inverter/Charger
Samlex EVO-4024 – 4000 Watt, 24 Volt Pure Sine Inverter/Charger